Water Filter & Water Purifier
Quick change filter system for healthy drinking water!
EZ Filter System (Hanger Type)
EZ Filter System (Hanger Type)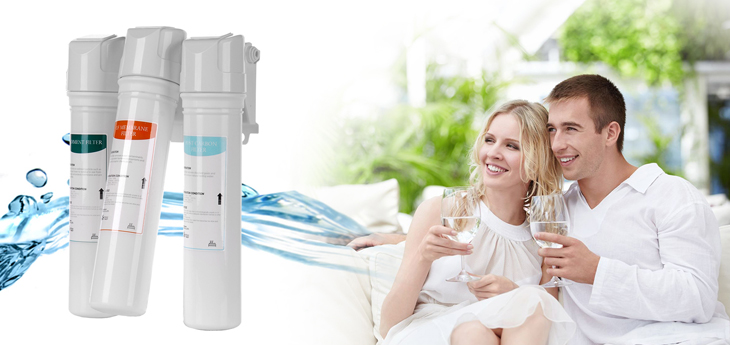 Moolmang EZ Filter System (Hanger Type) is top quality of inline filter system that makes drinking water safer and healthy. With improved taste and greater clarity, you will find better flavor in foods and beverage when they are made with filtered water. This system is advanced either in filtration performance and convenience of use. Also, it is designed to ensure easy (1/4" twist to open/close) and non slip replacement!
- Easy & Non Slip Replacement!
- ¼" Twist to Open & Close Cartridge!
- Sanitary Filter Replacement!
- Space Saving!
- Clean & Healthy Drinking Water!
- Easy to install!

Filter
1st Stage: Sediment + Carbon Block Filter or Activated Carbon

Carbon block is comprised of virgin carbon power and specialty adsorbents. A thermoplastic binder is integral in the extrusion process to deliver a rigid solid state carbon filter capable of radial water flow. Radial flow allows water to flow from the entire outside of the filter through to the core providing 15times more surface area than axial flow(GAC) designs. The water moves slowly through a consistent solid carbon block membrane but the flow rates are commensurate with GAC filters because of greater exposed surface areas. Thus this carbon membranes are capable of removing / reducing lead, volatile organic compounds, chlorine, chloramine, asbestos, cysts and turbidity. This membrane is covered with a layer of melt-blown or spun-bounded polypropylene filter media.?This exterior surface and the adsorptive membrane can provide filtration to a 1 micron nominal rating.

2nd Stage: UF Membrane Filter

Ultrafiltration (UF) is a separation process using membranes with pore sizes in the range of 0.1 to 0.001 micron. Typically, UF membranes will remove high molecular-weight substances, colloidal materials, and organic and inorganic polymeric molecules allowing only fresh water and dissolved minerals to pass through. This is widely used water treatment membrane in industry and commercial and now available for domestic use with lots of benefits comparing with reverse osmosis membrane(RO) such as saving minerals after filtration, no storage tank is required and no waste water would be produced.

3rd Stage: Granular Activated Carbon Filter

Post Carbon filter thereby remove many volatile organic chemicals, including bad tastes & odors, residual chlorine, harmful pesticides & herbicides, pigment and hundreds of other man-made chemicals found in tap water because carbon is a substance best known and most widely used to absorb impurities.

3rd Stage: Antioxidant Alkaline Carbon Block Filter or Alkaline Aqua Filter (Option)

This filter is specially designed to promote a balanced pH water with improved Oxygen Reduction Potential(ORP) utilizing earth mineral without undesirable tastes associated with high pH balanced water treatment systems. Antioxidants neutralize free radicals, which damage cells, clog arteries and contribute to chronic illness and aging. Antioxidants are found in leafy vegetables, fruits, wine, and chocolate. Antioxidants can also be found in certain vitamins and minerals such as vitamins A, C and E, zinc and selenium. Antioxidants are natural free radical fighters. They also have a spare electron which they can give away to make free radicals harmless. They work by protecting the components of our antioxidant system.
EZ Filter System (Hanger Type)
Sediment Filter
UF Membrane Filter
Post Carbon Filter
Alkaline Carbon Block Filter (OPT: Alkaline Aqua Filter)
Function
Remove dirt,fine pollutants, chlorine
Remove heavy metal, bacteria upto 0.1~0.01 micron
Remove odors, chlorine & Improve water taste
Increase pH, Lower ORP
Material
PP, Carbon
Polysulfone Membrane
Carbon
PP, Carbon, DOLKI Media
Filter Type
Nipple ¼" Quick Change Type
Nipple ¼" Quick Change Type
Nipple ¼" Quick Change Type
Nipple ¼" Quick Change Type
Pore Size
5 micron
0.1~0.001 mircon
-
-
Maximum Flow
1 GPM(4 LPM)
1 GPM(4 LPM)
1 GPM(4 LPM)
1 GPM(4 LPM)
Maximum Pressure
70 PSI
70 PSI
70 PSI
70 PSI
Maximum Temperature
113 ºF(45 ºC)
113 ºF(45 ºC)
113 ºF(45 ºC)
113 ºF(45 ºC)
Burst Pressure
500 PSI
500 PSI
500 PSI
500 PSI
Replacement Period
Max. 3 months
Max. 12 months
Max. 6 months
Max. 6 months
Effective Filtration Capacity
1,800 L
6,050 L
3,000 L
2,400 L
Model No.
UWF-EZ3UF
Size
250(W) x 95(D) x 310 (H) mm
Weight
1.70 Kg / 2.20 Kg
Luxurious Package Design